The recent implementation of Phase I reopening in Oregon may have brought about changes in your operations. You may have, or may be planning to re-open your business, or deciding to let the general public in your front doors. As we get used to the new normal, Cardinal would like to highlight some concerns and resources. You may have already viewed and addressed some sections so feel free to skip ahead to the relevant one(s).
Phase I
Phase I Counties
Verify if your county has reopened. Most counties outside Northern Willamette Valley were approved to be reopened.
https://govstatus.egov.com/reopening-oregon#countyStatuses
Phase I Requirements
Review and implement the requirements for Phase I counties. Retail and restaurant employees have some stringent guidelines like the mandatory use of a face mask for employees.
https://govstatus.egov.com/reopening-oregon#phase1
Where Can I Get Help?
County Officials
Ask your county officials if you have specific questions. For example, are you considered retail? Is retail any business where the general public has access? If you ask a question make sure you document the question, answer, time, agency, and name of the person where you obtained information.
https://govstatus.egov.com/oregon-county-contacts
OSHA
Be proactive, OSHA is a good resource where you can call and speak to someone. Share their answers with your employees. This can head off employee concerns and complications (see Compliance section). Once again, document as above.
https://osha.oregon.gov/Pages/Contact-Technical.aspx
SAIF
If you have SAIF workers' compensation via Cardinal or your own policy, SAIF has safety consultants who can help.
https://www.saif.com/employer-guide/coronavirus-and-workers-compensation/keeping-workplaces-safe-and-healthy-during-the-pandemic.html
Compliance
Listen to Concerns
Once you have your plans in place, engage with your employees. Check out the spike in OSHA complaints as shown in the chart below. When employees are scared, they do not hesitate to bring OSHA into the picture. Let employees know what and why you are doing things. Document training on sanitizing, social distancing, mask use, etc. You can hold a meeting to go over the items verbally, then hand out policies and document who attended. Remember that safety people like to say, "If you did not document it, it did not happen.".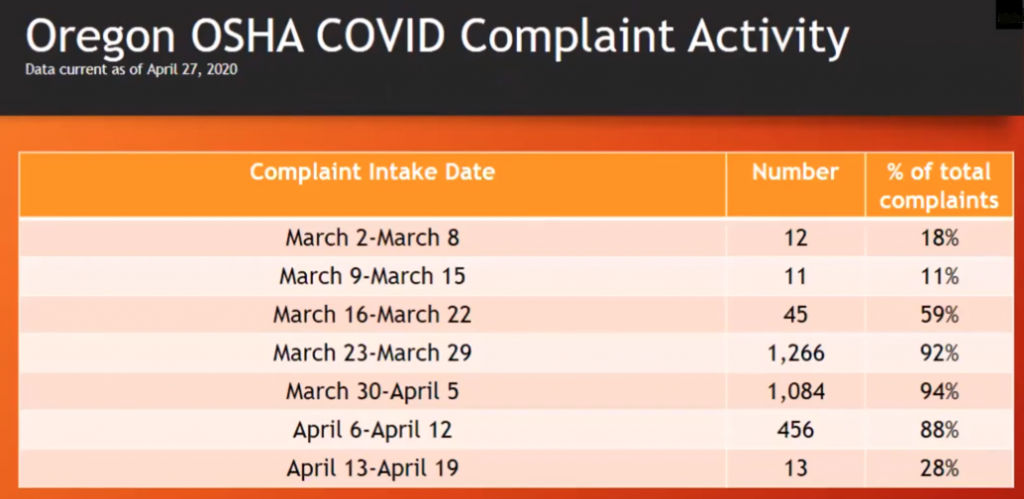 Masks and other PPE
You may be hearing masks are in short supply or not available, and same with other Personal Protective Equipment (PPE). Fortunately, the State of Oregon has compiled a list of PPE vendors. Several local companies are stepping in to fill the void, from distilleries making hand sanitizer, to garment makers using scraps to make cloth masks. See the full list in the link below: