Transforming good workers into great workers = business success!
The #1 employer complaint these days is "I can't find good workers." The challenge is not just finding a talented staff but, even more importantly, keeping the ones you have! In a tight labor market, retaining and engaging your existing employees saves you time and money.
Hiring VS Upskilling Costs
Average cost of hiring a new employee* = $10,000 – $15,000
Average cost of upskilling an employee**= $1,000 – $3,000
What Is Upskilling?
Upskilling is elevating an employee's existing skills to the next level through training programs. The goal is to create development opportunities that expand your employees' abilities and minimize skill gaps. Typically, upskilling occurs along a set career path, giving employees clear opportunities for advancement within the company as they level up their skills. Upskilling training can include "soft" skills or specialized skills to fill workforce gaps.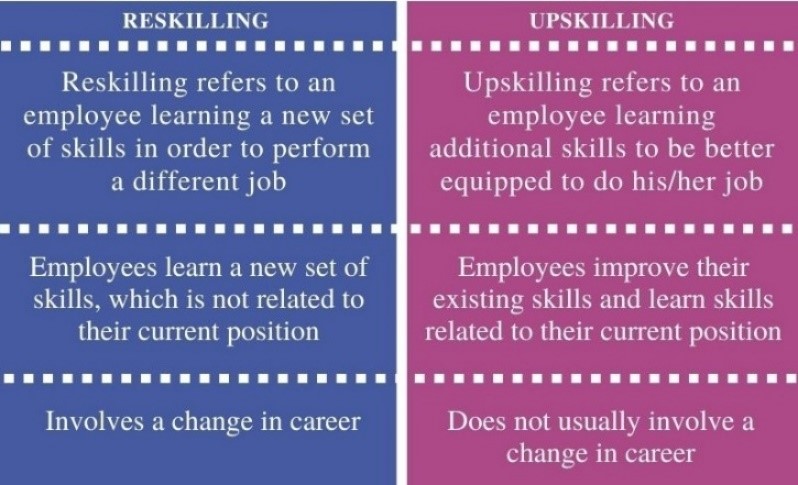 Is Upskilling The Same As Reskilling?
No. Reskilling is when a worker learns new skills to do a different job, work in a new industry, or change careers.
Benefits of Upskilling
For Employers
Increased employee engagement = retention
Better equipped workforce = increased productivity
Creates culture of learning = A+ performance standards
For Employees
Ability to do their job better = productivity +
Career growth & enhancement = promotions $$
Improved morale, confidence = loyalty & tenure
How Does A Company Implement An Upskilling Program?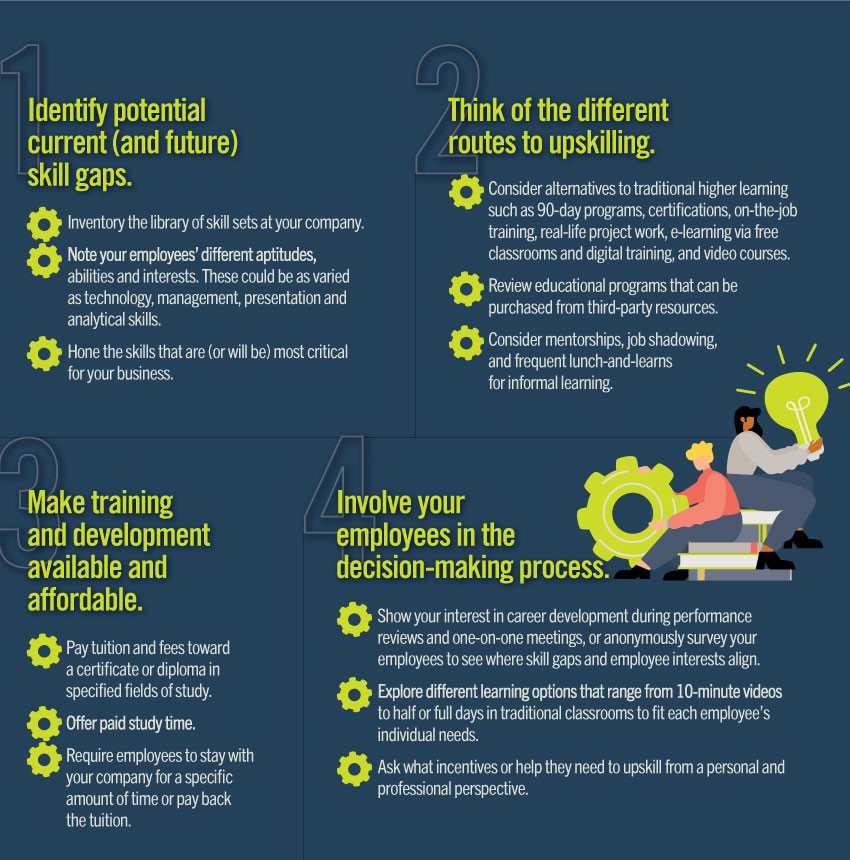 Budget-Friendly Upskilling Resources
While many professional associations and organizations offer expensive courses, small business owners don't have to break the bank to provide upskilling training to their employees. Online resources reveal many free and budget-friendly ways to help employees learn new leadership, digital, and soft skills. Most of these resources offer certificates of completion that allow your workers to record their progress.
Upskill for the Future
One of the top reasons employees leave their employers is a lack of career development and advancement. Upskilling can help save your company money and keep your employees happy and engaged. A Randstad study found that 40% of U.S. employees haven't been offered training resources or been financially supported by their employer for upskilling purposes. The study also shows that companies that under-invest in employee training have a higher turnover rate for their businesses. Upskilling can lead to increased productivity with current staff, help you retain employees and increase your company's efficiency and bottom line. Upskilling your staff not only saves your money but is an investment in preparing your business for a successful future.
Need To Develop An Employee Upskill Program?
Call Cardinal Services (800) 342-4742 to speak to one of our HR consultants for all your HR needs.
* Work Institute's Retention Report ** World Economic Forum 2019
** World Economic Forum 2019